TIOCOSONDE Project Description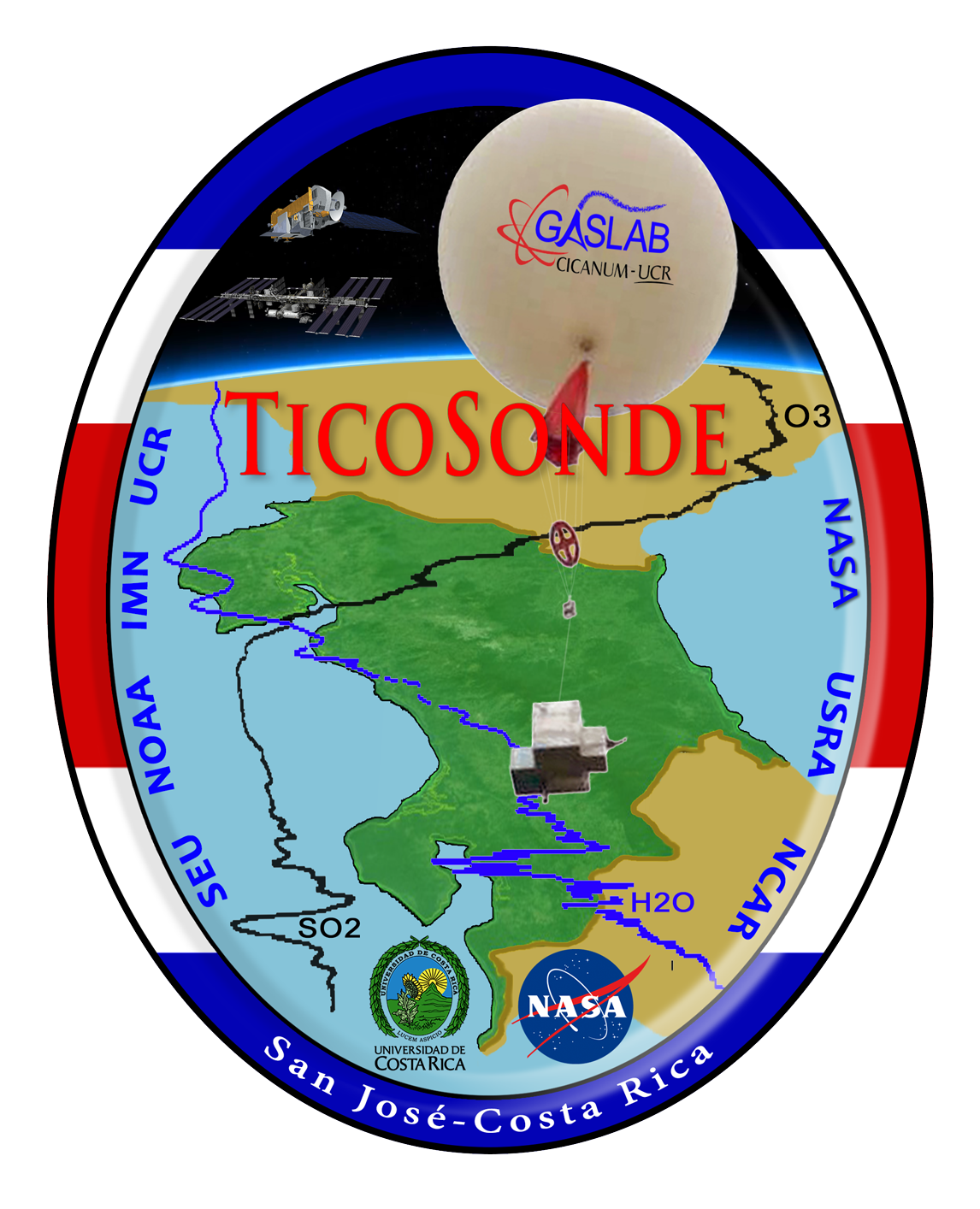 Ticosonde is a NASA-supported collaboration between the United States and Costa Rica that makes regular balloonsonde measurements of ozone and water vapor from the surface to the middle stratosphere over Costa Rica. At a latitude of 10N, Ticosonde is the only long-term balloonsonde program measuring stratospheric water vapor in the deep tropics. In addition to water vapor and ozone, since 2012 Ticosonde has been profiling sulfur dioxide plumes emitted from Turrialba, an active volcano close to San Jose.
Ticosonde data support validation of retrievals from a number of space-based instruments. Water vapor and ozone retrievals include those from the Aura Microwave Limb Sounder (MLS) and soon the SAGE-III instrument on the International Space Station. SO2 retrievals include those from the Aura Ozone Monitoring Instrument (OMI), the Suomi-NPP Ozone Mapping and Profile Suite (OMPS), and the TROPOMI instrument on ESA's Sentinel 5 Precursor launched in October 2017.
TICOSONDE Observational Program
The basic Ticosonde payload measures ozone to ~30 km and pairs an electrochemical concentration cell (ECC) ozonesonde with an IMet-1-RSB GPS radiosonde (Komhyr et al, 1995). To measure water vapor, the Cryogenic Frostpoint Hygrometer (Voemel et al., 2007) is added to the basic payload. Finally, direct measurements of SO2 are obtained using a dual ozonesonde technique developed by Morris et al.(2010).
Since 2011, weekly Ticosonde payloads have been launched from the GasLab at the Universidad de Costa Rica, northeast of downtown San Jose. Water vapor sondes are launched once per month, and SO2 dual sonde launches are made 8-12 times a year, depending upon volcanic activity and validation requirements.
The GasLab team under the direction of Co-I Jorge Andres Diáz prepares and launches all payloads and delivers the raw sounding data to Science PI Holger Vömel for processing.
TICOSONDE Data Access
After quality control and final processing, data files for each launch are accessible as follows:


OZONE (Holger Vömel/lead): Ticosonde is a participating site in the Southern Hemisphere Additional Ozonesonde (SHADOZ) network, and Ticosonde ozone profiles are available from the SHADOZ website
WATER VAPOR (Holger Vömel/lead): Ticosonde is a participating site for water vapor in the Network for Detection of Atmospheric Composition Change (NDACC), and Ticosonde water vapor profiles can be obtained from NDACC subject to its data protocol. Click here to access water vapor sonde data directly. (All NDACC data over two years old are publicly available. See the NDACC website for more information for more complete details. For more recent data, please contact PI Ryan Stauffer.)


SO2 (Gary Morris/lead): Ticosonde has an archive at AVDC of SO2 data. Please click here to access the data directly.
TICOSONDE Support
Ticosonde water vapor and ozone observations are supported by the NASA Upper Atmospheric Composition Observations program (UACO, Dr. Kenneth Jucks, Program Scientist). Sulfur dioxide observations are supported by the NASA United States Participating Investigator program (USPI, Dr. Richard Eckman, Program Scientist).
For questions on the Ticosonde project please contact PI Ryan Stauffer at the NASA Goddard Space Flight Center. Follow Ticosonde on Instagram: instagram.com/ticosonde